Last Updated on July 11, 2023 by Shanta Roy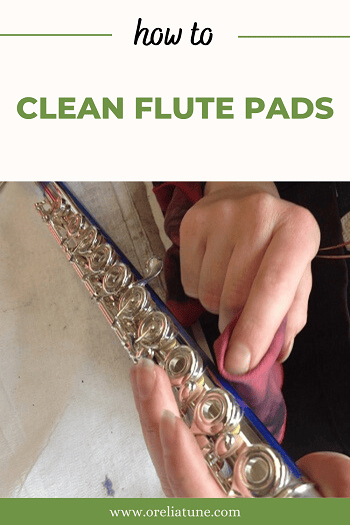 Keeping your flute clean is essential for ensuring its prolonged use.
Besides, if you think about maintaining hygiene, you have no other option but to clean it every day.
You should wipe it down well after any playing session, and you might not have a playing session every day.
Polishing is not required to be done after using a flute. Still, you need to do that often, if not with every playing session.
As it's about cleaning your flute, cleaning varies in some parts. For instance, cleaning the upper surface and inner part is essentially different.
What is more, the key mechanism that you have on the flute's body, cleaning them, is also different.
Here will give away a clean step-by-step guide for cleaning the pads under the key of a flute. Also, we will make you aware of vital information about cleaning the pads of a flute. Let's go!
Things You Need To Know About Cleaning Flute Pads
You need to be careful while cleaning flute pads. Why? First of all, they are a crucial part of the sounds making mechanism of the flute. If you somehow damage them, you will have spent a lump sum to get them fixed. Also, you might have to choose to buy another flute.
Secondly, damaged pads will make it harder to play the flute smoothly. Also, you might not be able to produce the best kinds of tunes with your flute anymore. Succinctly, your flute won't sound the same. Take a look at the point below to learn how and why you need to handle your flute pads delicately.
Can I Clean Pads With Rubbing Alcohol?
You should not clean pads with alcohol. Alcohol will make the pads puffy, and you will find it hard to press down the keys.
It will also cause extensive damage to the pads, and they could also shrink and crack at the end. Furthermore, pad replacement can cost quite a big amount of money.
Can I Spray Disinfectant Spray On The Pads?
It's a NO too. Since it's a liquid substance, you can't apply them on the pads. In fact, you should not expose your flute pads to any sort of liquid substance.
We will be suggesting you're a special kind of liquid substance here that doesn't damage the pad like alcohol and water. Also, they are one of the elements you need to clean flute pads properly.
Is Cleaning Pad Is A Tough Task?
Frankly, it is tough if you use the wrong materials. And it's easier when you use the right materials. Pad cleaning is very simple when you use the drying card/strip.
You put the card under a pad and gently press the pad on the card. We will talk about the steps in detail later.
Supplies You Need To Clean Flute Pads
You will need three elements that you will be using one by one.
Pad juice: It's a kind of disinfectant.

Cleaning Stripe: For wiping the pad juice.

Drying stripe: To dry the pads completely.
You can find them in any online and offline musical supplies shops.
Steps For Cleaning Flute Pads
The steps are very easy to follow because the task itself is not complicated. Still, are a few crucial you need to be aware of. You will learn about them when we start with the steps. Also, the steps are not going to be much extended as we have talked about most of the important aspects in the previous sections.
Step 1
Take one cleaning stripe, and put a very little amount of pad juice on it. You must be wondering, and your pads are already sticky, why would you use something liquid now?
The juice is used for killing germs, but it is not for drying the pads. Still, if we think about the stickiness of the pads, only using the drying stripe won't be removing the stickiness. Let's move on to the next step.
Step 2
After applying some juice to the cleaning stripe, you need to place it under the key. Next, press down the specific key.
Then, lift the key and gently brush the pad with the stripe. Please avoid brushing pads hard. And, you need to brush the pads to ensure the stripes are cleaning the germs properly. 
Step 3
Next, you take out the stripe and cut the end you used for cleaning.
Now, you need to dry the pad. For that, place the drying stripe under a pad. And, then press the key gently.
Once again, don't pull the strips while pressing the keys. The pads will come off or might get displaced from the mechanism.
Step 4
Then lift the key and take out the stripe. The pad is now clean! Follow the steps again to clean the rest of the pads the way using pad juice, cleaning stripe, and drying stripe.
How Much The Materials Coat?
You can buy drying pads for around 4 to 6 dollars. And, you can use them again and again for over a year. The pad juice will cost a little higher. You can find them for around 14 dollars.
Although they are costly, you will be able to use them for a long time because the cleaning process doesn't require much juice. Overall, spending on these items will be a sensible choice.
How Long Can I Use The Drying Stripe?
Their stripes are reusable. You can wash them after cleaning the pads. Also, they can be utilized for over a year. Isn't that economical?
What Should I Not Use To Clean Flute Pads?
People use many types of paper to clean the pads, such as as-dollar, cigarette paper, powder paper, etc. None of these are suitable for cleaning the flute pad. Also, experts suggest not using them.
On A Final Note
Cleaning flute pads are an essential part of the whole flute cleaning process. Please don't use them with whatever you have near your hand! If you don't use the right materials to clean the pads, you might damage them. Also, the wrong materials are not going to clean the pads anyway. 🙂
Related Posts: