Last Updated on June 6, 2023 by Shanta Roy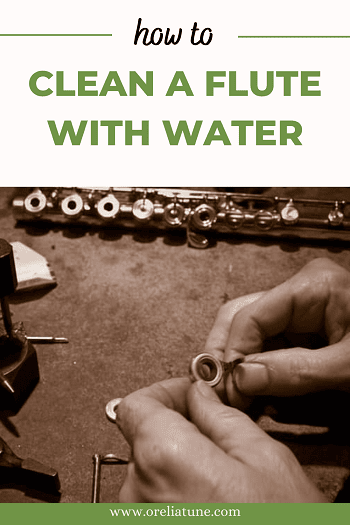 Keeping your flute clean is crucial for its use and longevity. For instance, after a practice session, your flute will undoubtedly be covered with germs, the moisture of your hand, and your breath.
If you don't clean those, they will cause the flute to get mottled and stained. Also, your flute will be sticky and discolored. You don't want that, do you?
Anyway, this article is about cleaning the flute, and there are many ways one can clean their flute, such as- rubbing alcohol, silver cloth, silk cloth, and water. Here, we will help you with how to clean your flute with a step-by-step guide.
Alongside cleaning a flute with water, we will provide you with some essential details about using a flute with water. Let's start with the discussion.
Things You Need To Know Before Cleaning Flute With Water
It's not as straightforward as it sounds. You can dip a flute directly into the water. There are necessary steps that you need to complete first. Although we won't be talking about the steps right now, it's better to let you know the initial facts. Go over the ideas below, and build clear background knowledge about using water to clean a flute.
RELATED:
Don't Immerse Flute Into The Water.
Yes, you should never dip it into the water! It will cause extensive damage to the metal flute, such as- it will destroy the pads of the keys. To make it clearer, when the pads get in touch with water, they will swell and shrink. As a result, you will have a problem playing the flute.
For example, you won't be able to press the keys all the way down. You might think bamboo flutes will be okay with water. That's not true either. A small amount of water should be okay. Too much water can damage the consistency and color of the components of a bamboo stick.
Always Disassemble Before Cleaning
It's not applicable to bamboo flutes. But, for a metal flute, take out all the joints before you perform cleaning.
Use Disinfectants With The Water
You can use a little bit of water to kill the germs. Only cleaning your flute with water is not considered to be an effective maintenance practice.
Use Rods And Cleaning Cloths
Since you should not clean your flute with a limited amount of water, always utilize a cleaning rod and cloth. This way, you will be able to clean the flute with a small amount of water.
Water Doesn't Make A Flute Shiny.
It is simply not possible for water to make your flute shine because it doesn't contain such a component.
Supplies You Need
Spraying bottles

Disinfectant

Cleaning rod

Cleaning cloths: For metal, the flute collects micro-fiber cloth to clean the upper surface and silk inside. For the bamboo flute- collect a pure fiber cloth.

Tape

Q-tips
Steps For Cleaning
The steps aren't going to be extended. They are relatively brief and easy to follow. You can read one step and then implement it. That's the best way to find our guide most useful. Note that we will be proving steps separately for both bamboo and metal flutes.
Cleaning Metal Flutes With Water
Step 1
Before everything, you need to separate the head joint, body joint, and foot joint.
Step 2
Fill water and a small amount and disinfectant in a spraying bottle.
Step 3
Take the cleaning rod, and wrap the silk cloth around it. Then, spray a little disinfectant and water mixture you have made. Spay all over the cloth but make sure you are spraying too much
Step  4
Next, take the parts one by one and clean the inside with the cleaning rod.
Step 5
Now, take the microfiber cloth, and spray lightly all over the cloth. Then, clean the outer body of all the parts.
Step 6
Clean the keys in a back-and-forth motion, and then assemble all the parts. Finally, put the flute in the case.
Cleaning Bamboo Flute With Water
Step 1
Warp the fiber cloth onto the cleaning rod. And put a little tape at the end of the cloth to make you securely attached with the rod. Otherwise, it might get stuck inside the bamboo pipe.
Step 2
Next, spray some disinfectant water on the wrap, and put it inside the flute. Move the rod very carefully to perform a proper cleaning.
Step 3
Now, you can use the same fabric cloth to clean the upper surface or get another one. Anyway, spay again on the cloth and a tiny amount. Then, wipe down the whole body of the flute.
Step 4
Take a Q-tip and spay small the slightest. And clean the mouthing and fingering hole gently with some Q tips applying the mixture of water and disinfectant.
We are done here with the cleaning process!
Tips For Using Water To Clean Flute
Never clean vigorously

Use water as less as you can

Please don't put the instrument right back into the case after cleaning it with water.

Let the flute dry, then put it in the case.

Don't even think about using soap water.
Benefits Of Cleaning With Water
Cleaning with water is simple and traditional.

You speed much less in comparison to cleaning with rubbing alcohol.

A good option for daily maintenance
Drawbacks Of Cleaning With Water
A mixture of water and disinfectant might clean the daily germs, marks, and moistures, but it doesn't prevent discoloration.

The disinfectant may cause slow damage to the flutes.

Only cleaning with water wipes the marks and moisture, not the germs.

The experts do not recommend it as a daily maintenance process. They mainly suggest using rubbing alcohol.

Metal flutes can't attain the glamorous shiny look only with water. To make it glossy, you need to use a silver polish cloth.
To Conclude
The experts do not suggest cleaning flutes with water. You can do it occasionally if you want. For proper cleaning, you better choose alcohol and other necessary materials. You can't neglect the maintenance of this instrument. To avoid damage, early replacements of faded flutes follow what experts suggest. Frankly, it's rather an unpopular procedure for cleaning a flute.