Last Updated on August 22, 2023 by Shanta Roy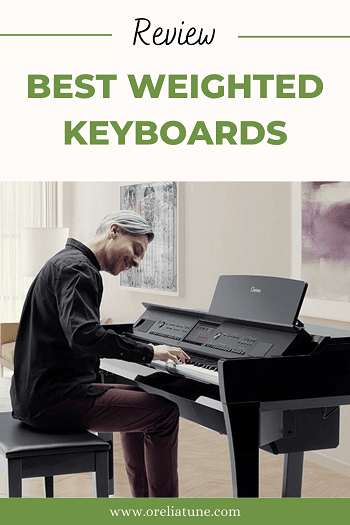 Not every model of the digital piano can be good for music lessons to replace an acoustic version. For full-time music studies, it is better to select a keyboard with 88 full-size keys and weighted hammer action mechanism.
The fully weighted mechanics with graded hammer action means that when the keys are pressed, you can feel a characteristic heaviness.
The keyboard is usually divided into 3 or 4 zones. It allows for improving the fingers' technique exactly as it would be on a "real" instrument.
Digital instruments with full-weighted mechanics of keys are advised to novice pianists, especially for those who have weak fingers.
An experienced musician can adapt to any instrument in one way or another. But the beginner may well develop incorrect muscular reflexes, which will be difficult to overcome in the future.
The review below can be useful to help you select the right digital piano with weighted keys.
Our team of experts has selected certain products and assigned a star rating to each product. Read our detailed review below.
The 10 Best Weighted Keyboards On The Market
1. YAMAHA NP-32 – (

BEST 76 KEY WEIGHTED KEYBOARD

)
The main advantage of this model is the perfect sound, especially if you connect it to a good acoustic system or use good headphones. Instead of a full-size keyboard with 88 keys, there are only 76 keys, and the hammer-action mechanism is absent here. The keys are comfortable to touch.
The set of sound effects is rather traditional. First of all, we can distinguish the quality of reverb and chorus. For a beginner musician, an onboard looper function is especially useful. Having recorded one instrument into its memory, you can switch the mode and play another virtual instrument on top of the record made.
The piano has also a mode of dividing the keyboard, allowing performing the same alive. In this case, one hand plays a part of one instrument and the second one plays another instrument. There is also a MIDI interface, so the piano can always be used with any VST synthesizer on the computer.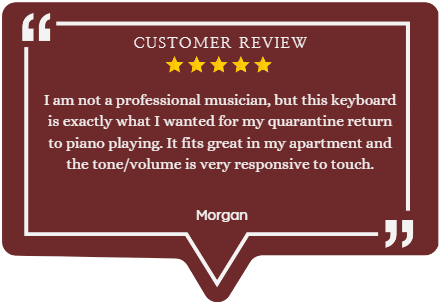 Pros
Lightweight and compact design.

Full-sized weighted keys.

Polyphony of 64 notes.

10 timbres.

Reverb and metronome.

Possibility to record compositions.

Built-in loudspeakers 2 x 6 W.
Cons
The hammer action of keys is weak.

Non-graded keys.

It comes without power adapter and pedal.
2. YAMAHA NP-12 – (

BEST 61 KEY WEIGHTED KEYBOARD

)
In this model, the keyboard is even smaller, it has 61 keys only. But the difference in price with the NP-32 model is perceptible. Then, if the bass keys in the NP-32 model are significantly heavier, the key action does not depend on the octave here, and this greatly affects the instrument in comparison.
The restricted number of keys is compensated by the built-in transpose function. Of course, if you often pass along the entire keyboard during the play, the transpose is inconvenient. But do you often do it?
As usual for Yamaha, the sound here is recorded from real Yamaha instruments in the same way. But for the purpose of reducing the cost, the built-in loudspeakers sound rougher. Then, the right pedal is only optional. Here is another secret of the price reduction.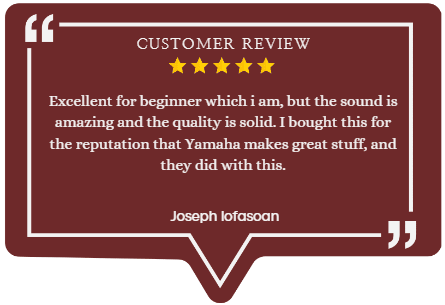 Pros
64-note polyphony.

Recording function.

Weighted keyboard with the mechanics of Graded Soft Touch.

Dual Voice function for superimposing two timbres.

AWM Stereo Sampling.

10 quality timbres, including samples of the concert grand piano.

Built-in MIDI recorder, metronome and four types of the reverb effect.
Cons
No hammer action and the keys are not graded.

Low-power acoustics (2 x 2.5 W).
3. YAMAHA NP-80 – (

BEST CHEAP WEIGHTED KEYBOARD

)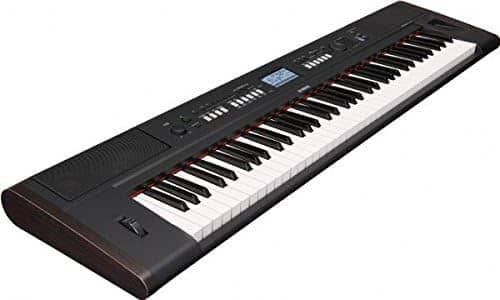 Yamaha NP-80 is a legendary digital piano of a lightweight and moderate price. It weighs 6 kg only. The piano rather fits intermediate players, but many professionals love it too because of its features and fantastic sound.
This digital piano has a Graded Soft Touch keyboard of 76 active keys with mechanic semi-weighted action. The Yamaha NP-V80 Piaggero offers to play in 165 styles, ranging from rock and jazz to modern electronic rhythms, which can sound like a constant back accompaniment.
During the play, you can change the instrument sound by selecting a violin, flute, harp, or another instrument. The arpeggio function will allow you to automatically play the arpeggio when you just press the corresponding keys.
Pros
160 styles of auto-accompaniment.

Polyphony of 32 notes to get sound of decent quality.

Various effects (Split, Dual, and others), 12 sets of drums and 477 tones.

The one-touch setting, sustain, 9 reverb types, 4 kinds of the chorus, 5 types Master EQ, metronome, and transpose.

LCD display with backlight.

Possibility to store 305 songs in the memory.

USB port to connect to other devices.

2 x 6 W loudspeakers.
Cons
Some professional musicians may be disappointed by a bit unrealistic key action.

Some customers claimed that the pedal in the set is not good.

The power adapter is not included.
4. ALESIS RECITAL DIGITAL PIANO – (

BEST KEYBOARD FOR BEGINNERS WEIGHTED KEYS

)
This is a compact and functional digital piano equipped with 88 full-sized semi-weighted keys. The piano has 5 built-in realistic timbres and a wide range of the most wanted functions that can meet the needs of both beginners and advanced users.
In addition, you can use 2 timbres at the same time, dividing the keyboard into 2 parts or layering them on top of each other. The model differs by its extreme simplicity in operation and a very democratic price.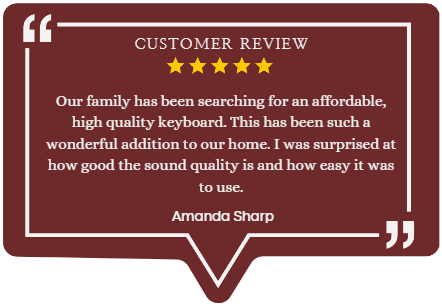 Pros
Polyphony of 128 notes.

Reverb, Chorus, and Pedal Resonance function.

USB-MIDI controller system.

5 loudspeakers of 2 x 10 W that offer great sound.

Built-in metronome with tempo adjustment (30 – 280 BPM).
Cons
No display.

No recorded tracks.
5. KORG B1SP 88 – (

BEST 88 KEY WEIGHTED KEYBOARD

)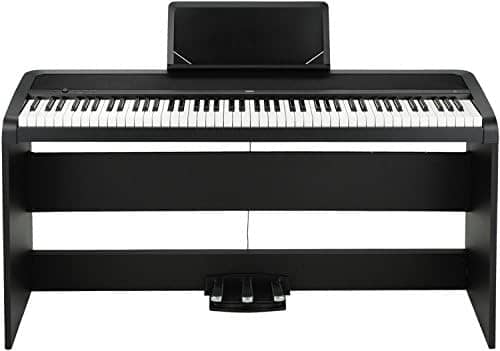 Korg is one of the preferred names for digital pianos. This model is a great option for anyone who wants to have a stand-up digital piano in tight spaces. It can be used by various musicians both at home and on stage.
The piano Korg B1SP has a beautiful sound and features an 88-key weighted keyboard with the quality Natural Weighted Hammer (NH) system, providing a great feeling of playing like on a real acoustic piano.
There is a Partner mode, which divides the keyboard into two parts for the four hands play. The PIANO PLAY button instantly recalls the sound of a concert grand piano. Two full-range loudspeakers and a passive radiator help achieve a very good sound.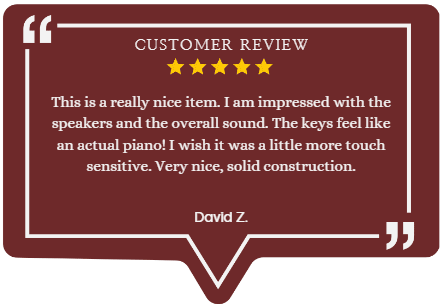 Pros
120 notes of polyphony.

8 instrument sounds.

Motional Feedback technology to provide accurate reproduction of the low-frequency sounds.

2 built-in effects (reverb and chorus) and a metronome.

Ease of use.

2 × 9 W loudspeakers.

Stylish design.
Cons
No LED screen.

No recording function.

The model is equipped with a headphone output/line-out only. So, it cannot be used with different software and devices.
6. KORG SP-280 BK – (

BEST WEIGHTED HAMMER ACTION PIANO

)
This digital piano guarantees beautiful sound very close to the acoustic piano. A modern stylish design fits easily into any interior. It provides the sensation of a concert grand piano and is an ideal choice for both home and stage.
You can experience sensations like playing an acoustic piano primarily thanks to the use of four-layer samples, which switch depending on the dynamics of the performance. From the tender pianissimo to the aggressive fortissimo, the sound will react realistically to any touch to the keyboard.
In particular, the Grand Piano timbre reproduces the damping resonance effect observed when the strings of an acoustic piano are freed from dampers to make the overall sound even deeper and more natural.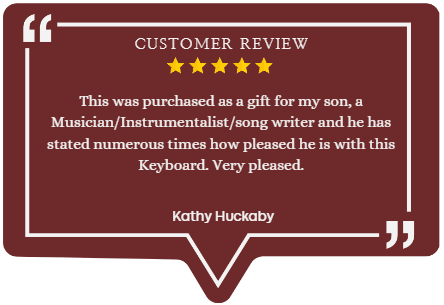 Pros
Hammer keyboard with Natural Weighted Hammer Action (NH).

Key Touch Control of the keyboard to allow selecting the most suitable level for your manner to play.

3 effects – Brilliance, Reverb, and Chorus.

30 expressive high-quality timbres.

Layer and Partner mode of play.

A powerful amplifying section 2 x 22 W.

Lightweight design for easy transportation.

Stereo audio input for accompaniment.

Stylish design.
Cons
Sustain pedal is sold separately.

No built-in recording system.

No USB connectivity.
7. CASIO PX-160 – (

BEST KEYBOARD FOR MUSIC LESSONS WITH WEIGHTED KEYS

)
This is the first model of the popular Privia series, which Casio Company produces for several last years. The digital piano Casio PX-160 is one of the best digital pianos for learning how to play. This model differs from analogs with excellent sound, which is provided by multi-dimensional sound propagation.
Casio PX-160 can give you the ability to play up to 18 original piano sounds. The device can be used both for playing solo and for stage performances or rehearsals thanks to an analog stereo output.
The 88-weighted keys of the piano are made of synthetic material close to the ebony and ivory. This coating excludes slipping fingers when playing fast passages. The model uses hammer mechanics with triple sensors.
The keys of the upper register produce much more mechanical noise, although in general, it is pleasant to play on the keyboard. Tactile sensations are very realistic.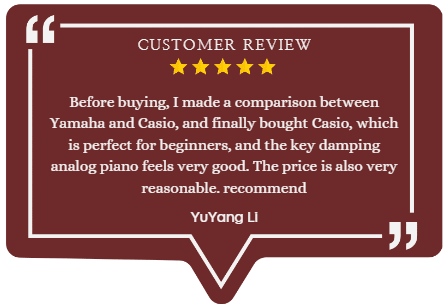 Pros
128 notes of polyphony.

The response of the hammers and resonance dampener will be useful for those who are just learning.

Functions of keyboard split and duo.

Functions of keyboard split and duo.

Powerful enough speaker system of 2 × 8 W.

During recording, the audio compression goes without loss of quality

Two additional accessories included – one pedal and a stand.
Cons
Keys can move a bit.

Offered sounds and effects are few.
8. ROLAND FP-30 – (

BEST PORTABLE KEYBOARD WITH WEIGHTED KEYS

)
This modern digital piano possesses such undeniable advantages as small dimensions, choice of voices, advanced sound generation technologies, volume control, etc. The digital piano Roland FP-30 is the best in the ratio of price and functionality. Despite its inexpensiveness, this model has multiple functions, which are usually inherent to instruments of the premium class.
A full keyboard has all 88 keys made of high-quality imitation of ivory and ebony covering with a hammer action mechanism. Playing on the instrument is nice and convenient. The fingers do not slip, and the keys react sensitively to any tricks of the play.
Twin Piano mode divides the keyboard into two parts. So, the student is able to repeat the exercises after the teacher.
The Escapement function, taken from older and more expensive models, will allow you to achieve the best expressiveness when playing. The quiet operation of the keys and the output to the headphones make it possible to play at any time of the day, without bothering other people around.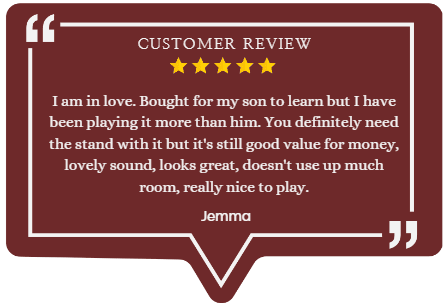 Pros
Super Natural Piano Sound Engine.

128-note polyphony.

3 keyboard modes – Dual, Split, and Twin Piano.

The possibility of connecting it to mobile devices via Bluetooth.

Built-in recorder.

2 loudspeakers of 2 × 11 W.

Luxury appearance.

Easy to move.
Cons
You might need to buy a better pedal.

The sound is better if you use headphones.

The control is a bit sophisticated.
9. WILLIAMS OVERTURE 2 DIGITAL PIANO – (

BEST ELECTRONIC KEYBOARDS WEIGHTED KEYS

)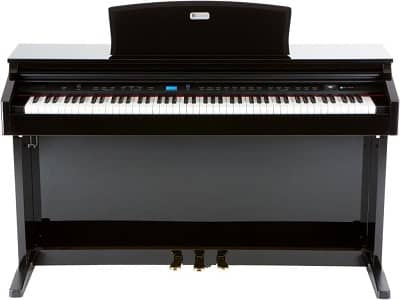 The Williams Overture 2 is a lovely electric piano. The look and feel of the instrument in terms of the features and sound quality are well worth its price. It has an impression of a good comprehensive musical instrument.
It has an 88-key hammer-type keyboard and 64-note polyphony. Compared to the more recent Rhapsody 2 model, this piano has more built-in timbres and an improved acoustic system.
The keys feel natural and even, and the great hammer-action mechanism gives pleasure to play it. This is a great choice for anyone that loves to play classical music and other genres.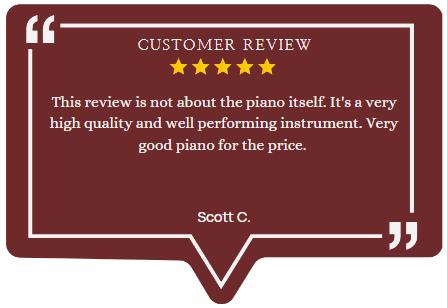 Pros
147 built-in timbres, including 15 high-definition tones.

Song Tutor mode to split the keyboard.

Duet mode for four hands play.

18 demo tracks.

General MIDI support.

Three pedals instead of two – Sustain, Sostenuto, and Soft.

Four-speaker amplification system.

Built-in power supply instead of an external adapter.

Playback of MIDI songs from a flash drive.
Cons
Non-graded keys.

Few features.
10.  KAWAI CN 37 B – (

BEST FULLY WEIGHTED KEYBOARD

)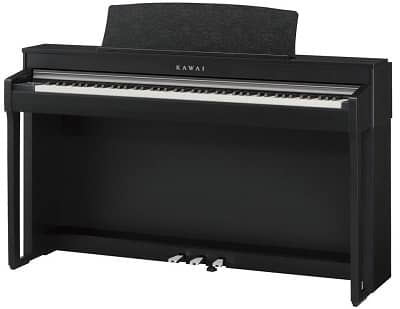 The Kawai trademark is not particularly well known, but professionals consider it as one of the best manufacturers of Japanese digital pianos.
The keyboard with RM3 mechanism is used in the Concert Artist series since 2010. The Ivory Touch keys, in this case, have a full length, which completely satisfies the classical performers. A perfect keyboard combined with an excellent classical piano sound made this brand very popular in many countries.
The Kawai digital pianos of CN series use a keyboard with plastic keys. The Compact, but very realistic mechanism is called Responsive Hammer III (RH III). Kawai engineers placed at least three touch sensors for each key of this mechanism in order to fully convey the minimum features of any piece of music.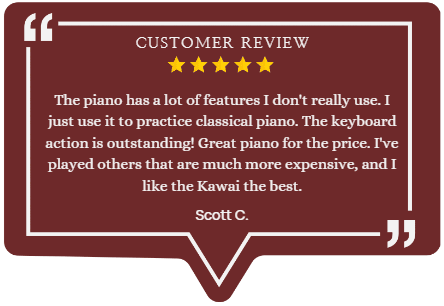 Pros
Progressive Harmonic Imaging (PHI) technology with a sampling of 88 keys.

352 timbres + 9 drum patterns compatible with GM2.

Polyphony of 256 notes.

Damper resonance, noise attenuation, string resonance, Fall-back Noise, Topboard, minimum touch, and stretch tuning effects.

Grand Feel Pedal System.

Superior 4-speaker 2x 20 W output system.

Bluetooth (version 4.0; compatible with GATT)
Cons
No built-in musical styles.

The available features may not be sufficient for professionals.
Frequently Asked Questions
A weighted keyboard, what does it mean?
Digital pianos do not use complicated mechanics. In them, the sound produces due to the electric circuit that generates sound. A good digital piano provides the most realistic sound similar to an acoustic instrument.
In addition, you have real physical sensations from pressing the keys. The keyboard of such digital pianos has weighted keys. At the same time, the keys have the same shape as the acoustic piano has. During the play, you have a sense of kickback from hitting the hammers on the strings thanks to the clever design of the keys that imitate this feature.
What are the main types of digital keyboards?
Besides the weighted keyboard, it can be also semi-weighted and non-weighted keyboards. The keys of the semi-weighted keyboard do not have hammer action. They are simply pressed much heavier than on the non-weighted keyboard.
Two main benefits of the non-weighted keyboard are the low cost and the light weight. But the non-weighted keyboard will never give you a feeling of playing a real piano. That's why a semi-weighted keyboard is better than a non-weighted one.
What is the hammer action?
Back then, the keys of digital pianos had ordinary springs. After that, special hammers appeared on such keyboards to imitate the mechanics of an acoustic piano. In the case of a digital piano, a hammer does not hit a string but a special sensor.
The number of sensors in one key can vary from 1 to 3, which also indirectly affects the nuances of the play. For example, the half-pressing of the key should sound accordingly and a very slow pressing should not produce a sound at all.
Modern high-quality digital pianos have full hammer mechanics that copy the real instrument key action. Very often, it is almost impossible to distinguish them by touch.
What are types of the hammer action?
The hammer action can be graded hammer action or balanced hammer action. The majority of digital pianos have graded keyboards to provide sensations from touching the keys the same as when playing acoustic pianofortes.
The word "graded" means that the keys in the lower register are pressed a little heavier and it's easier in the upper register, like in acoustic pianos, where the thickness and length of the strings are different and the effort to press the keys are distributed accordingly.
The keyboards with balanced hammer action also provide a sense of playing the acoustic pianos but without the distribution of the force of pressing from the lower octave to the top. Most often it can be found in cheap digital pianos and MIDI keyboards.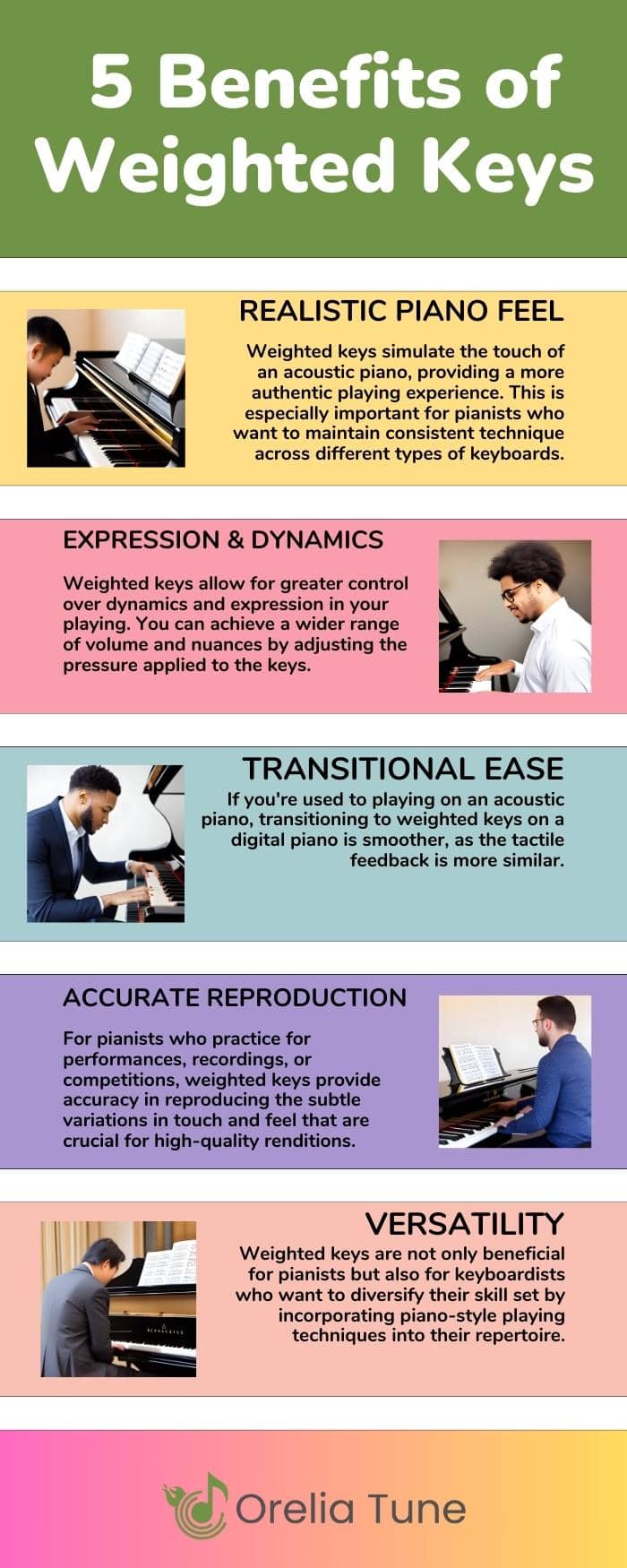 You May Also Like To Read: