Last Updated on August 22, 2023 by Shanta Roy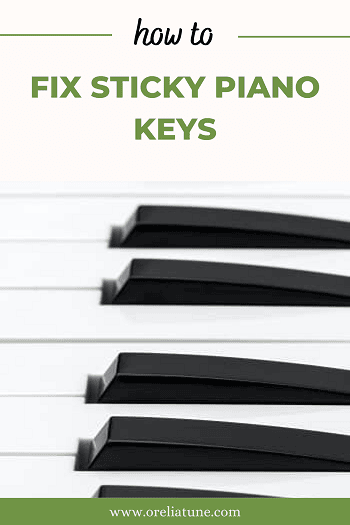 Sticky piano keys are no fun! They can make it hard to play your beautiful music, and they can be annoying and frustrating to deal with.
Many pianos fall prey to sticky piano key problems such as sticky keys and keys that stick. Most often than not, these problems are caused due to manufacturing quality failures.
While there are numerous repair clinics that can fix sticky piano keys, most of them are expensive. Let's find out how to fix sticky piano keys by yourself.
Fixing sticky piano keys: 3 methods
If you're looking for ways to fix sticky piano keys without spending hundreds of dollars, here is a step-by-step guide with simple solutions and tips you can use at home on your own.
Method 1: Pencil eraser
You can fix sticky piano keys by using a pencil eraser!
You might think that if you want to fix sticky piano keys, then you need to go out and buy some expensive chemical cleaners or something. But that's not true! The best way to fix sticky piano keys is with a pencil eraser.
All you need to do is take an ordinary pencil eraser (the kind that has a pink rubber tip on the end) and rub it across the top of each key until your problem is solved!
Erasers are great for small pieces of debris between keys. Just rub the eraser over the keys (it's okay if it gets a little dusty). It's really that easy! If that doesn't work- try the following method.
Method 2: Soft toothbrush
In this method, all you need is a toothbrush, some rubbing alcohol, and some patience.
First, put the toothbrush under running water for about five seconds. Then shake it off—you don't want it to be soaking wet, but you do want it to be a little damp.
After that, dip the toothbrush into a small bowl of rubbing alcohol. You don't need much—about 30ml will do the trick. Swirl the brush around in the liquid for about 15 seconds—just enough so that it's saturated with alcohol.
Then take your brush and gently scrub each key (make sure to wash your hands thoroughly before and after doing this). Also, make sure to get all sides of the keys and use just enough pressure to get all the way down into the cracks between keys, where sticky residue tends to build up.
It might take several tries, but eventually, your keys will be as smooth as ever!
Method 3: Rubbing alcohol
This is a super-simple trick to fix those sticky piano keys. And rubbing alcohol is more effective than water.
First, you'll want to be sure your hands are dry when you're handling the keyboard so that there is no moisture added while cleaning it.
Now, use a little bit of rubbing at the beginning to make sure that it's not too harsh for your particular piano. If it doesn't seem to help, try using it a bit more.
After wiping down the keys with rubbing alcohol, clean up any leftover residue with a dry cloth or paper towel.
In the end, make sure you give your piano plenty of time to dry before playing again (at least an hour).
Final remarks
Now, try playing your piano with one hand as you use the other to keep keys pressed down in order to prevent them from getting stuck again in the future! You might feel silly doing this at first, but after just one day, I guarantee it. 🙂
You May Also Like: