Last Updated on June 6, 2023 by Shanta Roy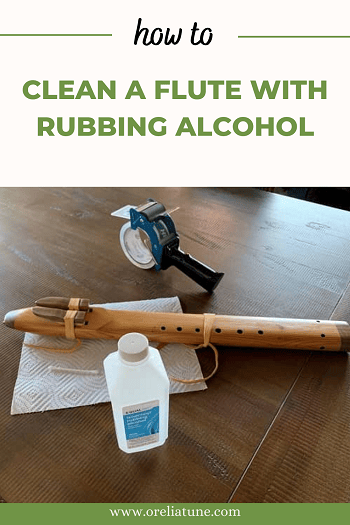 We want to start by saying- this mouthpiece needs to be cleaned daily. Although how frequently you should clean it depends on the frequency of uses too.
And, all that takes us to a single point- cleaning your flute.
Here, we will talk about how to clean your flute with alcohol. Also, we will give relative details that will help you with cleaning your flute with alcohol.
Let's start with the main discussion now.
Things You Should Know Before Cleaning Flute With Alcohol
We have already mentioned an aspect of cleaning a flute, which is how often you should clean it. There are a few more essential aspects like that relating to the use of alcohol. We must address them to make you aware of them. Have a look at the sections below.
RELATED:
How Often Can You Use Alcohol To Clean Flute?
Experts suggest you can make use of alcohol daily to clean a flute. Because rubbing alcohol is the best kind of disinfectant for this instrument. Note to mention- your flute will considerably be covered with gems after a playing session from all the moisture and fingering.
Will Daily Use Of Alcohol Damage The Outer Surface Of Your Flute?
No, it won't cause any discoloration of your flute. Also, it won't be eroding the overall construction of a flute. Alcohol not only kills the germs but also prevents tarnishes and mottles too.
Can I Use Alcohol To Clean The Inside Of A Flute?
Yes, you can use alcohol to swab the germs and dirt from the inside of your flute.
How Much Alcohol Should You Use To Clean A Flute?
Not too much, just a small amount. You will have to wet an area of a cleaning cloth with a little alcohol and apply it all over the flute's body.
What Type Of Alcohol Should You Get?
There are three types of alcohol that you can utilize to clean a flute, such as- ethanol, isopropyl, and hydrogen peroxide. Some of them will come in the wet wipes package, and you can find some in a tin can or small tube.
What Else Do You Need Alongside The Alcohol?
You will need:
Q-tip

Small spray bottle for alcohol

Micro-fiber cloth or cleaning cloth for the outside

Silk cloth

Cleaning rod
Cautions And Tips
Be careful of the pads under the keys. Make sure the alcohol doesn't reach those. Alcohol will cause them to swell, shrivel, and crack. As a result, the keys will get stiff, and you won't be making the best sound with the flute.

Rubbing alcohols are safe for the skin. Still, try not to touch them with your hand much. It will cause redness and dryness.

Always use a cleaning cloth.

Clean the keys back and forth to clean the notches properly.

Clean, gentle, and slow. Otherwise, you might mess something up, and it will cost a massive amount of money.
Steps For Cleaning Flute With Alcohol
Now that you have been well-informed about the essential details of cleaning a flute with alcohol, we can move on to the cleaning part. Also, let us inform you that the steps won't belong as we have covered the critical discussion in the preceding sections.
All you need to do is grab the stuff and implement the steps. Keep in mind, that you need to clean the flute gently and slowly. Go through the steps below.
Step 1
Before you start cleaning the flute, you need to disassemble the parts. And fill some alcohol in the spray bottle. This is to save your hand from getting in touch with alcohol.
Step 2
After taking the parts off, grab the cleaning cloth, and spray some alcohol on it. Then, you can gently wipe down the flute with the cloth. Leave the keys for now.
Step 3
Now we can clean the keys. You don't need to clean the key and the whole piping area vigorously. It would help if you wiped back and forth to ensure proper cleaning smoothly.
Step 4
Next, wet the Q-tip slightly to clean the head joints and the notches of the piping area.
Step 5
You can now clean all the joint areas of the head joint, body joint, and foot joint. If you clean the joint areas, you will be able to assemble the parts faster.
Step 6
You can clean the inside of the flute. To start cleaning the inside, take the cleaning road and silk cloth. Then, apply some alcohol to the silk cloth.
Step 7
Now, wrap the silk cloth onto the cleaning rod. Then, take one of the parts of the flute. Next, put the rod inside the part, and move in the direction you have wrapped the silk cloth. Continue cleaning all the parts that way.
Step 8
This is the last step, and we guess you can tell what is coming next- assembling the flute. So, put the 3 of the parts together, and put your newly cleaned and shiny flute in the case.
Benefits Of Cleaning Flute With Alcohol
We have already mentioned once that alcohol can help you kill germs prevailing on a flute's surface. Alongside instrument hygiene, there are a few more mention-worthy benefits. Namely-
Alcohol contains a substance that can make a silver instrument shiny like the first time you bought it. Silver flutes can turn yellowish over time after all the fingering and touching. Alcohol will help you like no other material. You will see people use soap, water, and oil, but that' 's not the right substance to retain the shine of your flute.

A flute can get tarnished gradually for the moisture and touching. Alcohol helps a great deal to remove the tarnish of silver flutes. Also, I can prevent flutes from getting faded and creeping black spots. If you use alcohol once a day, you can stop your flute from getting any mottles and stains.
To Summarize
Cleaning your flute with alcohol is a highly effective solution. You have to make sure you are using too much of them. Also, you are not cleaning it improperly to cause extensive damage. There are many instances of people breaking parts of their flutes while cleaning, and it will cause a boatload of money or use the getting a new flute.