Last Updated on July 11, 2023 by Shanta Roy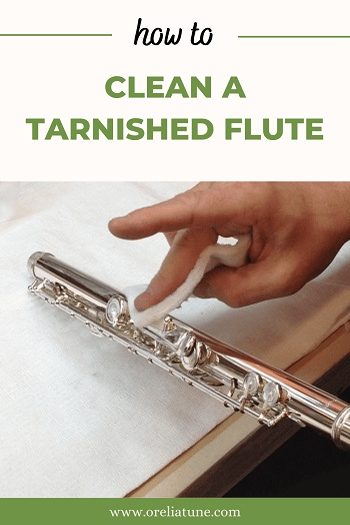 As much as you like the sound of a flute, you admire its shiny appearance of it too!
And, it's not unusual for a flute to get faded, and mottled at a point; in other words- tarnished. This is true for all the metal flutes out there.
As a result, you need to perform thorough maintenance of your flute to keep it clean and shiny.
Here, you will find how to restore the actual color of a metal flute.
Besides, we will help you with tips and steps for removing tarnish and how to prevent it from creeping onto the flute surface. Stay with us!
Tips And Steps For Removing And Preventing Tarnish
Tarnish doesn't really go away when you simply try to clean it with a scrap of cloth. Yes, the faded color doesn't affect the performance of a flute anyway, but you don't want a discolored flute, do you?
Also, experts say, improper cleaning and the wrong procedure of cleaning can interfere with the productivity of your flute and you! In other words, the key might not work smoothly, and you won't be able to produce the best sound with your flute.
Now, we will give away important suggestions first. The tips will not only be helping you with obliterating the tarnish but also with precluding it from happing. After that, we will move on to the steps to clean your gloomy flute. Anyway, let's have a look at the tips now.
Tip 1: Try Daily Maintenance, Not Useless Cleaning Procedure
You will see people clean their flutes with many substances, and you might want to try them too. That's totally okay. The problem is, the substances they use, don't seem to be effective in practice. Folks use, toothpaste, submerge the flute in a bathtub, clean it vigorously with oil, and so on! These are not necessary, what you can do instead, maintaining a daily cleaning routine.
In the daily cleaning procedure, you need to clean the moisture from the flute, and put it back in its case until the next playing session. This is the top tarnish prevention method. When you leave without cleaning the sweat and moisture from your breath, it won't take too long to turn yellowish.
How To Perform Daily Cleaning
You can clean the flute daily by using a cleaning rod and silver cloth. The rod is for cleaning the inside mainly, but you will have to put the silver cloth with it. And, to clean the outside, you can use wipe it carefully with a silver cloth. The rod and the cloth will help you to wipe any moisture from the flute.
Tip 2: Using Alcohol If It Discolors Despite Daily Care
It's not uncommon for a flute to get a brownish-black spot on it, or simply a yellowish shade on it even after daily maintenance. In that case, you can make use of some alcohol. How to clean it with alcohol, we will talk about in the cleaning steps. And, there are some critical ideas that you need to be aware of if you use alcohol.
Make sure, that the alcohol is not getting into the pads of the keys. If the pads of your flute get exposed to alcohol, they will become swell, and you will find it difficult to play the flute properly. Also, alcohol can cause the pads to be damaged. And replacing pads will cost a good amount of money. Moreover, don't put any alcohol in the head joints; they will shrivel and the pad crack.
How To Clean Flute Using Alcohol
There are two types of alcohol that you can use to clean your flutes, such as Isopropyl alcohol, and Denatured alcohol. The second type of alcohol is also known as Methylated alcohol.
Isopropyl alcohol comes in a small wipe package. You can open one and wipe down your flute. But, the denatured alcohol comes in a big tin can. You need to take a small amount of denatured alcohol on a scrap of cloth and wipe your flute with it. As experts suggest, denatured alcohol does better cleaning than alcohol wipes do.
Tip 3: Right Cleaning Procedure With Silver Polish, Oil, and Toothpaste
Yes, we criticized using various cleaning materials to clean a flute. Experts suggest these materials can get stuck in the crevices. And, this will result in, moving the keys moving slowly. It is better if you take it to a flute technician as they can ensure your flute remains unharmed. Cleaning materials can get stuck inside any narrow opening of your flute.
Also, flutes are developed in such a way as to stay lubricated. Hence, if you try to clean it with oil, and toothpaste, it does more damage than it makes your flute shiny. Silver polish can also get gummed up in the intricate formations of the flute. Overall, avoid touching the mechanisms of the flute and using fancy products by yourself. Once again, it will call for a complete overhaul!
How To Clean With Oil And Toothpaste
Just forget about the toothpaste. Because it may make it shiny for a while, but it will end up causing you more money to fix your flute. And, cleaning with oil is not suggested too! But, you can oil some specific areas once a month. Also, it won't be removing any tarnish. You can consult a flute technician in this regard.
How To Clean Using Silver Polish
We have already explained that silver polish will get gummed up when you fail to use it properly. The best solution to it to see a technician if you want to remove tarnish with silver polish.
Tip 4: Keeping A Silver Saver Paper In Your Case
It's anti-tarnish paper, and you must keep on in the case of your flute. If you replace it every 4 to 6 months with another suggestion, and you will always have your flute as sleek and shiny as you bought it. Don't worry about the use process, we will get to it later.
How To Clean With Silver Paper
You don't wipe a flute with this paper. All you need to do is, keep a piece of silver paper inside the case. And, turn it or replace it every 4 to 6 months. They are inexpensive, and you easily employ one to keep your silver flute clean and shiny.
On A Final Note
With a daily care routine and proper cleaning steps, you can prevent your flute from getting tarnished. Also, make sure they use the right materials in the right amount. Don't try to perform anything that might cost you double as much money as the price of your flutes. And, always consider talking to an expert if you are confused. Most importantly, clean your flute every day! 🙂
Related Posts: