Last Updated on June 6, 2023 by Shanta Roy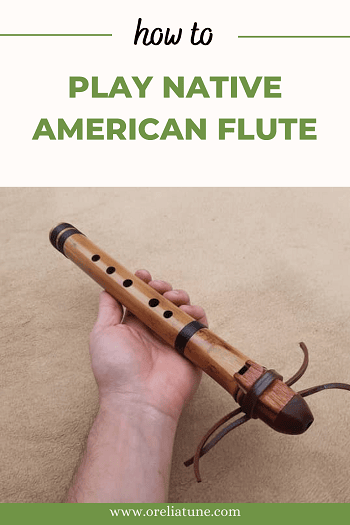 Flute sound has a soothing effect on it; nobody can deny that! The relaxing impact this flute can create is incomparable to any musical instrument.  
Our discussion here will be on the Native American flute. Alongside the playing process, you might be wondering how this flute is different from other flutes. Or, many some other thoughts about the flute.
We will provide you with a fruitful guide, to begin with, a Native American flute. Besides, we will make you aware of some other essential details about the Native American flute.
RELATED:
Characteristics Of A Native American Flute
Native American flute differs some away from a contemporary flute. For instance, you hold it onward, not sidewise like other flutes as the mouthing hole is on the top side. A native American flute can have 6 to 5 holes. The 3rd hole is covered in some of the flutes and opens in some flutes.
To Find A Native American Flute
You can visit online flute business sites, and you can easily find one for yourself. As you are a beginner, you should get one that is not a bass flute. When searching for a flute, have a good look at the specifications, and select one that doesn't mention bass. Playing the Native American flute is easy, but a bass flute can be hard, to begin with.
Learning The Flute You Will Buy
We will help you with a useful and general guide to playing a Native American flute. But, when you buy a flute, it will come with its individual tutorial CD. You can use that for learning playing thoroughly the flute that you brought.
Learning The Basics For Playing A Native American Flute
We already said it is effortless to play the flute. Expert flutists say, to explore, you don't need to know the basics, such as- the name of the notes. Initially, you can blow and lift and keep your finger to make tunes.
Perks Of Playing A Native American Flute
There are a couple of health benefits to playing this fantastic flute! For example, it helps you maintain a healthy heart rate. Consequently, with the better hearth-rate, you can fight stress well and start new every day!
Playing the flute can be a good exercise for producing lung air too. Breathing is critical for us, and this flute can help you a great deal to learn to breathe accurately. As a result, it can reduce the risk of numerous physical and mental health risks.
Step-by-Step Guide For Playing A Native American Flute
As learners say, playing a Native American flute is not hard, but you need to find a suitable one for beginners. We have already stated, a beginner should not go for a bass flute.
Considering that you choose any Native American flute that can sounds that are not too deep. Anyway, let's 's start with the playing process now.
Step 1: Holding And Finger Placement
First, you need to hold it properly. Your left-hand fingers will be in charge of the first three finger holes. And your right-hand fingers will be handling the last three holes of the flute.
Place your left-hand thumb under the flute, and place your index, middle, and ring finger on the 1st three holes serially.
Next, place your right-hand thumb under the last three holes. Then, place the index, middle, and ring finger on the last of the holes serially.
Note
Your flute might have 5 or 6 holes. If it's a five-hole flute, the ring finger of your right hand won't have a hole to handle it. Also, six-hole Native American flutes can come with their 3rd hole covered, which is the hole for your left-hand middle finger.
Your 3rd hole can be covered or opened, but your ring finger from the left-hand needs to be on the hole all the time while playing the flute. Mainly, this is applicable when you are practicing some serious tune.
But when you are just learning fingerings initially and comprehending what the flute might sound like with different fingerings, you can lift your ring finger on the left hand.
Also, advanced learners do make tunes by lifting a finger. You don't have to worry about the right now. Still, there's no harm in exploring!
Step 2: Blowing In The Flute
Now, you need to try blowing the flute. There is a concept of 'tonguing' in flute playing. Basically, it means you touch the roof of your mouth and interrupt the airflow. As a  result, when you blow in the flute, it will sound better. With the tonguing technique, the sound will have a comparatively higher pitch. And, without tonguing, the flute sound will be more resonant.
So, in this stage, you need to attempt blowing the flute both with and without tonguing. Listen closely, and try identifying the differences between the techniques and their result. Practice this for a while, then move on to the next step.
Step 3: Fingering
To learn to finger, you will have to start by lifting your fingers one by one. Begin with lifting the last fingering, the ring finger of the right hand if it's a 6-hole flute, and the middle finger of the right hand if it's a 5-hole flute.
After the last finger, try blowing by lifting the last two fingers. We guess you get the idea of practicing fingering now. You have just lifted all the fingers from downward to upward. Now, you can try blowing and closing the holes one by one from upward to downward.
Note
Once all three fingers of the right hand are up, keep the thumb under the flute for balancing. Also, remember, you don't have to lift the ring finger right away.
You can try practicing lifting the other fingers with the left hand with the rest of the fingers from the right hand. And, once again, keep thumbs from both hands under the flute to hold the flute.
For practice, all you need to do is lift or keep down one finger at a time. You can try creating your own melody gradually. Also, don't forget to blow in the flute with and without tonguing.
To Summarize
Native American flutes not only make incredible soothing sounds, but they can also help you to get rid of various health issues! You have seen that playing the flute as a beginner doesn't call for much knowledge or expertise.  You can know now play, explore, create tunes, and get better with the flute by practicing.
Good luck with learning to play the Native American flute.