Last Updated on July 4, 2023 by Shanta Roy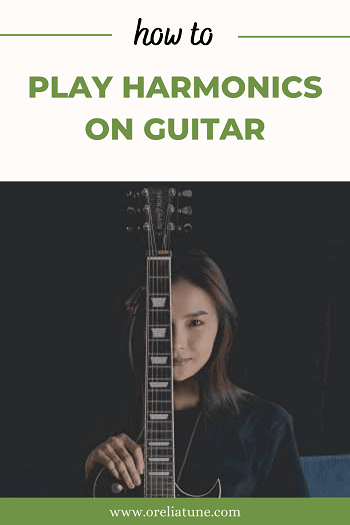 Playing harmonics on guitar is one of the most satisfying things you can do. It's like making music out of thin air, which is kind of what playing guitar is all about.
Also, playing harmonics on guitar is a great way to add some extra flavor to your playing, and it's not as difficult as you might think!
In this guide, we'll walk you through all the necessary steps for getting started with harmonic guitar. Learn how to play harmonics on the guitar below.
First things first: What exactly is a harmonic?
A harmonic is a specific type of note that rings out for longer than its original duration. A harmonic occurs when you press down on a guitar string without fretting it.
When you play harmonics, you're actually playing two notes at once—the fretted note and its harmonic counterpart.
You can play harmonics on the guitar, but it's a little more complicated than playing them on other instruments.
The only way you can play harmonics on the guitar is by using your fingers to touch the string in different places. You can't just pluck the string like you would with other instruments (like a violin).
Got an electric guitar? You can use your thumb to press down on the string at different points. If you have an acoustic guitar, you'll need to use your finger instead of your thumb–but it will still be pretty similar to how you'd play harmonics on an electric guitar.
In both cases, when you press down on a string, it should make two notes: one high-pitched note and one low-pitched note. If you don't hear these two notes, try pressing harder or softer until they're both audible.
4 Steps to playing harmonics on a Guitar
Playing harmonics on guitar is a fun, easy way to expand your playing. You don't need any special equipment or training—just a little bit of know-how and some patience.
Step 1
To play the harmonic, you must press down the string with your finger at a certain point. This is where the string vibrates freely without touching anything.
The best way to find this spot is to play an open string on your guitar and pluck it (don't strum or pick it). It will sound like a note but with no pitch. That's your harmonic.
Step 2
Now, look at the frets on your guitar neck. The harmonic is located exactly halfway between the nut and any given fret, so choose any fret you want, then find the halfway point between that fret and another one above or below it—that's where you should put your finger for playing a harmonic.
Step 3
Press down firmly on this spot with your index finger and strum or pick the string—it should vibrate very lightly and produce a ringing sound like a bell being struck once every second or two, depending on how hard you press down on it with your finger (don't worry if it takes some practice).
Step 4
Done place your finger on the harmonic fret (the number of frets above the actual fretboard)? Now, release the string, which should make a harmonic sound.
Tips for playing harmonica on guitar
Playing harmonics on guitar is a bit more complicated than playing them on other instruments, but once you know how it works, it's not too hard to get the hang of.
To make sure you're getting the right sound, here are some tips:
Tip 1
You need to hold your pick between your thumb and your index finger (not between your thumb and middle finger).
Tip 2
Place the pick at an angle so that it's parallel to the strings rather than perpendicular to them (this will help you play louder harmonics).
Tip 3
Use a clean tone if possible (no distortion or effects pedals).
Wrapping up
If you've never played harmonics before, it may seem like a difficult thing to learn—but it's actually not that hard at all! Here you have tips to get you started. 🙂
Discover More: Read on!