Last Updated on May 30, 2023 by Shanta Roy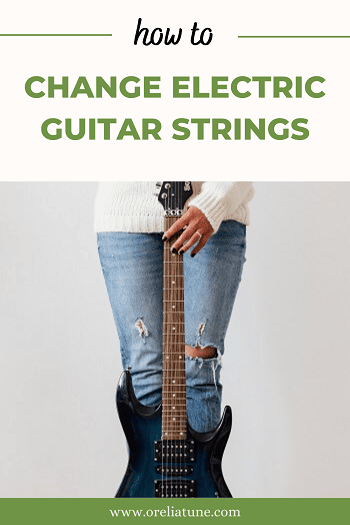 Changing strings on an electric guitar is one of the most common repairs. It's a very simple process, and you can do it yourself with the right tools.
You should usually change your strings when they become dull or rusty.
If you play in a band and have a gig coming up, try to change them before the performance date so they will be as fresh as possible when they're needed!
Changing strings on an electric guitar is actually pretty easy, especially if you use a restringing kit.
Learn how to change electric guitar strings in the following sections.
4 tips for changing electric guitar strings
Changing electric guitar strings is an easy process. Here's how you do it:
Tip 1
First, you need to make sure the guitar is tuned to standard tuning. To do this, you should use a tuner or get a professional to do it for you. If your guitar has been tuned recently and is still in tune, skip this step.
Tip 2
Next, loosen the string that is closest to the nut by turning it counterclockwise with a string winder (if your guitar has one) or by using pliers. This should be the first string on your guitar.
Tip 3
After loosening the first string, take off its old string by pulling it away from the bridge with your fingers or with pliers if needed.
If there are any silicone washers on either side of the bridge where you removed the string, remove them as well.
Tip 4
Then put on your new string (you can buy them at any music store). Repeat this process until all new strings have been put on your instrument and you've tightened them all up again with a tuner or pliers so that they're all in tune together!
3 Tips for choosing strings for electric guitar
Choosing electric guitar strings can feel like trying to pick a favorite song from your favorite album.But I will try to make it easy for you by giving you some tips on what to look for when shopping for new strings.
Tip 1
The first thing to consider is your playing style and the type of music you play. If you're into metal or hard rock, then you'll probably want thicker, heavier strings that allow you to bend notes easily and create that signature heavy sound.
Tip 2
But if you're into jazz or blues, lighter strings might be better suited to your needs. So that you can get a more nuanced tone out of them.
Tip 3
Then there's gauge: the thickness (or thinness) of the string itself. You'll need to buy a string that fits your guitar's neck width.
If it's too thin or thick, it won't fit properly in its slot on the headstock and could cause damage over time as well as make tuning more difficult. Too thick, and it won't produce enough volume; too thin, and it will buzz at every fret change.
Final notes
Changing strings is a pretty easy process.
You might need to change your electric guitar's strings if they get old and worn out or if they break. You'll also want to change your strings when you change your tuning (more on that in a second).
If you're just replacing a string that's broken, that's pretty straightforward: just take off the old one and put on the new one! If you're changing tunings and replacing all of the strings at once, follow the tips you have got here.
You May Also Like To Read: