Last Updated on November 1, 2023 by Shanta Roy
Helps students overcome anxiety

Helps students develop their skill

Sets realistic goals & milestones

Demonstrates proper technique

Challenges students to push
Great communication skills

Patient and understanding

Encouraging & supportive

Listens to students' goals

Different learning styles
Builds a strong music foundation

Encourages music theory

Develops students' sense

Maintains a professional

Respects students
** Discover our in-depth review below for all the essential details. **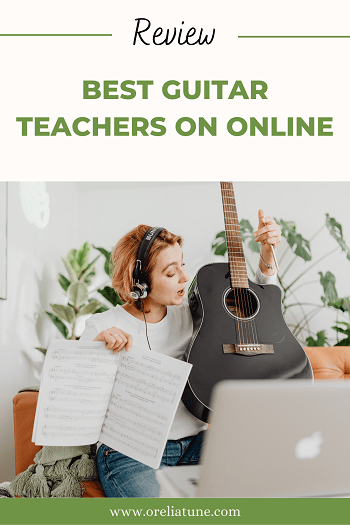 Learning guitar is a dream for thousands of kids and young people. There are many education courses available to learn guitars in all music schools.
But it's quite tough for everyone to take this as their major academic platform.
That's why some guitar teachers are trying to teach guitar online with their excellent guitar scale knowledge and effective teaching styles.
As a beginner, you might be confused between many online guitar teachers. So we've researched the best guitar teachers online for you.
And after in-depth research, we came up with 5 online guitar teachers who provide the best lessons to their students.
Finding the Best Guitar Teacher
Here are the 5 best guitar teachers who can offer you versatile guitar lessons and effective materials to learn better.
1. Matthew Kaplan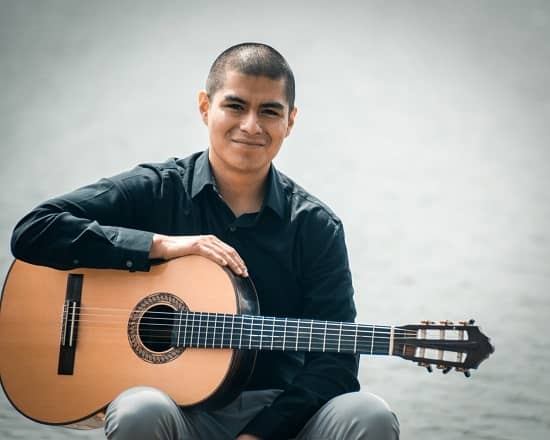 If you're looking for a professional guitar instructor with high knowledge of classical tuning, Matthew Kaplan is the utmost pick. He covers genres like classical, jazz, pop, folk, and rock.
However, he teaches students with no experience to an advanced level. Matt is now teaching in New York City.
He graduated from West Chester University of Pennsylvania with a bachelor's degree in Music Education and Music Performance with a minor in Piano. And he completed his Masters with classical guitar luminaries in Mannes College-The New School for Music. 
If we talk about his performances, he appeared in famous places like the Kimmel Center, Carnegie Hall, the Morgan Library & Museum, Symphony Space, and the DiMenna Center for Classical Music.
Additionally, he performed at Universidad Nacional de Musica of Peru in 2007. His audiences enjoyed his solo performance with Rome Festival Orchestra in 2010 and 2018.
Along with that, he was a fellowship recipient in  Lanciano International Guitar Seminar 2018. Matt is an active performer in Barcelona Spain and Santiago de Chile.
One of their remarkable achievements of Matt is releasing a double album with his recording of Chamber Music of Pieces in April of 2021.
Famous Bolivian composer Jaime Zenamon composed his beautiful album. However, this album featured guitar & cello, guitar duo, guitar trio, guitar quarters, and guitar & violin.
His impressive journey of Matt to be an extraordinary guitar instructor in a NYC  private music school inspires many guitar students.  And that established him as the first education manager to train guitar teachers and make them capable of teaching guitar effectively.
Though he teaches in music schools, luckily you can also book his classes on Virtu Academy, so you can learn guitar at your home.
2. Elijah Cole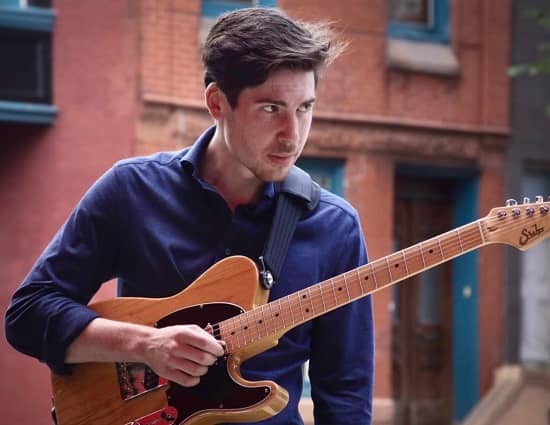 We are recommending Elijah to those who need a versatile instructor. Elijah is one of the popular guitarists and pianists around Philadelphia.  He also composes music. You will be mesmerized knowing his journey of learning music and performances on different stages.
However, Elijah started to perform from his 15 in Washington DC. His teachers and mentors Micheal Bowie and Paul Carr always appreciated his learning growth and excellent tuning sense.
He went to Philadelphia for 3 years of graduation on jazz music with the support of teachers like  Mike Moreno, Dick Oatts, Peter Bernstein, Terell Stafford, and Rodney Green.
Thus, Elija is well-known for playing different instruments and his styles are completely unique and interesting.
Moreover, he performed at the Mid-Atlantic Jazz Festival, Blues Alley, SOUTH, Chris' Jazz Cafe, and The Kimmel Center.
Besides his busiest program routine, he manages his guitar and piano students in a teaching studio. And he provides guitar lessons with the Classical Guitar store near Philadelphia.
He composes music to encourage people with a deep and strong emotional message that makes him the favorite of his followers. To get his online class entries, you can go to Virtu Academy and book his classes for students from the age of 10. We hope he'll offer you versatile lessons and prepare you for stage performances as well.
3. Lacey Jo Benter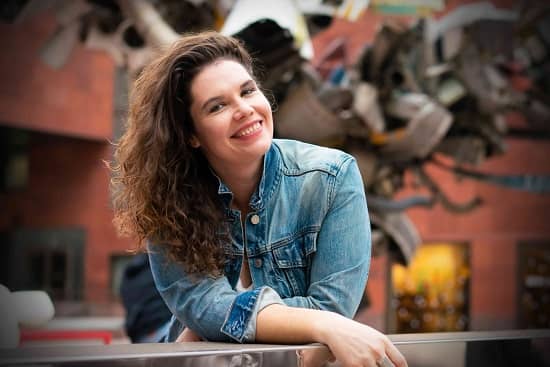 Another versatile teacher on our list is Lacey. We choose Lacey for her tremendous teaching capability. She covers almost every genre classical, jazz, pop, opera, R&B, contemporary, Bluegrass, rock, musical theatre, folk, and country.
She completed her bachelor's in Music degree from Lawrence University and her master's and Artist Diploma from The Julliard School.
Furthermore, she did some roles like Madame de Croissy of   Poulenc's Les Dialogues des Carmélite, Zita of Puccini's Gianni Schicchi, Le Prince of
Massanet's Cendrillon, Ma Moss of Copland's The Tender Land, and more significant roles in different musical stage performances. 
She performed as a Bonfils Stanton Young Artist with the famous Central City Opera and Gerdine Young Artist with the Opera Theatre of Saint Louis. Metropolitan Opera National Council awarded her with encouragement awards in 2014 and 2015.
In addition to that, Lacey appeared in Opera Omaha and Opera Columbus. And also performed with her self-produced team The Wagner Project. Her fusion collaboration with Beyonce and David Bowie was her best performance. Therefore, she is practicing her instruments for more than 2 decades.
Lacey is skilled in mezzo-soprano and soprano classical repertoire and trained in different tuning styles. The New York Times featured her as the rich warm tone for performing with a broad emotional palate. If you want to take her lessons online, book her classes on Virtu Academy.
4. Matthew Pidi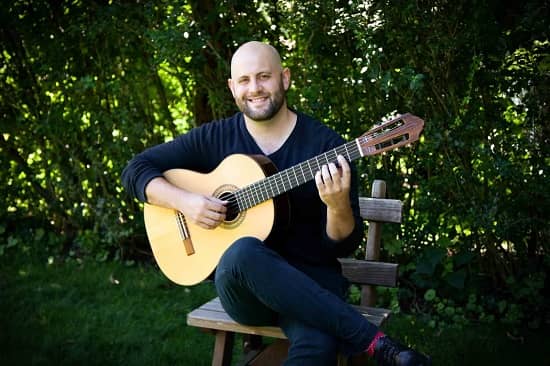 For aspiring guitar students, we are introducing Matthew Pidi because of his inspiring journey and a wide array of positive reviews from his previous students. He is basically from Bergen County of New Jersey and performs on many remarkable stages all over New Jersey.
Matthew graduated with a bachelor's in Music from William Paterson University and a master's from Mannes College of Music. When it comes to his performances,  he appeared as a guest artist in the New Jersey chamber music group Palisades Virtuosi's annual fundraiser gala. Raritan River Music's featured him as an 'Artist in the Community'.
Besides, he performed solo in the DiMenna Centre for Classical Music, Morgan Library and Museum, and the New York Guitar Seminar of Mannes.
Also, he is the founder member of Riverside Guitar Duo and performed several concerts on different stages. In recent times,  this duo has been selected to premier on Marco Oppedisano and the 'Two Of a Kind' guitar orchestra.
Along with performing on stages and concerts, he is working as a guitar faculty in Fort Lee School of Music and art performance faculty at Bergan Community College. You can also find him on Virtu Academy and easily book his classes within an affordable range.
5. Ben Cruz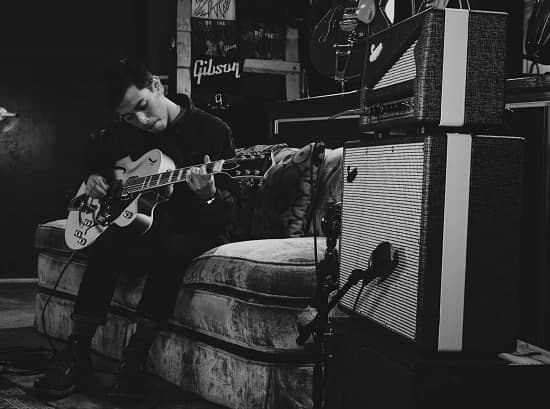 One of the youngest guitar teachers on our recommendation is Ben Cruz. Though he is younger than most of the guitar instructors, but he explored his musical talent in various traditions.
His modern thought of tuning and music amazes the mentors. Also, his students recommended him for his amazing knowledge of jazz and rock music.
Furthermore, he started to play guitar from his 12. In the beginning, he learned jazz and improvisation from a popular guitarist in New York City named Vic Juris.
After that, he graduated in history and jazz performance from Oberlin College and Conservatory. Ben was studying under the mentorship of Dan Wall, Paul Samuels, Jamey Haddad, Bobby Ferrazza, Jay Ashby, Brian Alegant, and Billy Hart.
Apart from that,  he got the chance to perform with Phil Markowitz, Billy Childs, Gerald Clayton, Billy Drewes, Dominick Farinacci, Petros Klampanis, Anat Cohen, and many more world-famous guitarists. We suggest booking his classes on Virtu Academy for kids.
---
Things to Consider While Choosing a Good Guitar Teacher Online
Picking a skilled guitar teacher is highly important if you're dedicated to music. Before that, you need to look into some must-have qualities of your online instructor.  These basics will help you to find a professional guitar teacher for yourself and your kids as well.
Research the Teacher's Qualifications
The first and foremost thing you should look for is the teacher's qualifications. It's better to choose someone who graduated in guitar and related subjects. They can teach you from the basics to advanced skills and develops great tune sense for different music traditions.
Ask About Their Teaching Style
Before booking any online guitar classes,  research their teaching style. In that case, choosing an instructor skilled in the versatile genre can be a perfect choice. Also, it's necessary to choose a teacher who can teach with patience as well.
Consider the Cost of Tuition
Select the online guitar teacher that matches your budget. Because it's a long-term process, you've to pick someone that you can maintain the cost for the whole session. Otherwise, you might have given up in the middle. But who wants that? right? So you should consider the tuition fees.
Make Sure They Have Good Resources and Learning Materials
To know about the resources and materials, you should check their social media groups and accounts. Online teachers mostly post their activities on social media to reach more people. Look into their teaching time videos or regular class updates.
Also consider asking about the guitars they use, the instruments they have, and their signature genre to understand what they're going to teach.
Read Reviews From Former Students
Check the reviews of previous students and communicate with them to get the whole idea of teaching sessions. Apart from looking into their official sites, try to check the reviews from social media guitar-related platforms. You can ask about the instructors on Facebook groups and your trusted sources to get honest reviews.
Conclusion
That's it then. You can choose any of the best guitar teachers online. We've covered their education, expertise, performances, and achievements to make you find the suitable one.
All of them are qualified and well-trained. So you don't have to worry about your learning process once you book them. Virtua Academy offers the same cost for all guitar teachers. Choose the one that goes with your preferences. Good luck. 🙂
Discover More: Read on!