Last Updated on May 30, 2023 by Shanta Roy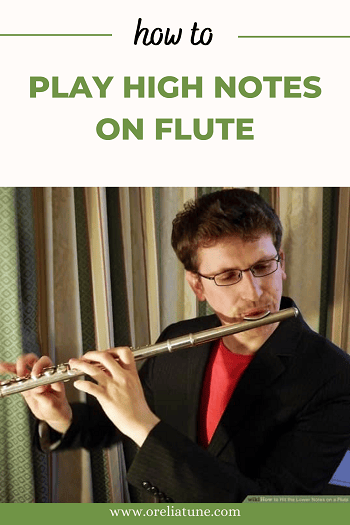 Playing a high note on a flute requires some careful practice. In practice, it is genuinely hard to learn to play the high notes in your flute.
While learning to play a high note, you are supposed to maintain a specific embouchure (shape of your mouth) structure and imagine particular places for the notes.
Also, flute teachers suggest identifying certain vowel sounds while practicing high resister or high notes.
If you have already tried to play a high note, you might have noticed you are not quite making the right sounds.
It might be squeaky, off-key, or you might be just ending up playing some low note altogether.
You can get it right with our guide, and you will be able to make your high notes sound as good as you expect them to be.
There are many more important details you would love to know about playing high notes. We have all the essential ideas incorporated here for you so you can learn about high notes better. Read on to know about all the vital aspects of learning to play high notes with your flute.
RELATED:
The Accurate Lip Placement
First of all, you need to learn where to place your lip on the flute. Also, how to hold your lip to play a high note. Practice for this step will help you to get started properly.
And, you will play the high notes correctly with your flute. Also, it will make the learning process a little faster. So, be sincere with this very first step.
You place your lower lip correctly on the lip plate and take it to your mouth. Then, set the flute hole right under your lower lip. Also, make sure you have placed it aligned in the middle with your lips.
The Right Embouchure Structure
Some learners keep their lips in the tight and spread structure while attempting to play the high notes. That's entirely a wrong embouchure form. And, it's one of the reasons learners fail to make proper high notes.
One more thing here, while placing the flute, you need to keep your lip a little spread. Or, simply, you can keep your lips in a smiling position.
By keeping the lip in a smiling position, you place the flute under your lower lip. And, you release the lips from the smiling position.
Overall, your lip should be in the same position when you make the 'e' sound. Next, your lip needs to transform into an 'uh' position. In other words, your lips will be in the form when you are generally producing words with 'uh.

Finally, your lip will go to the 'oh' position. Your lip should not be too spread, too forward. Just try to get a neutral position.
The Practice Of Going Lower To Higher Note
It is vital to start from lower notes while you are aiming to learn higher notes. We understand you might very well produce lower notes.
When you are learning higher notes, you start with the lower notes first, and then you slowly shift to higher notes. I will instruct you about this more in a while.
You need to remember-the jaw should not be tensed. And, your lip needs to be in a neutral position. Keeping these in mind and implementing these can start gently blowing air into the flute.
The note you need to start playing is- high E. So, place your finger on the holes for the high E, and start blowing slowly and gently.
Mainly, you will be blowing. Then, you slowly take it higher by blowing a little harder and faster. You go to other higher notes the same way.
Small Lower to Higher Blowing Exercise
Unlike a long blow that goes slowly lower to higher, here, you need to make small blows several times in a row.
Every blow will go lower to higher. You can make small blows and make them go low to high as long as you can hold your breath.
Vocalization Exercise
To do this exercise, you need to place your one right in the middle of your stomach. Next, open your mouth in the 'ah' position. Start to make a flat 'aaahh' sound, then make it a high-pitched 'aaahh' sound.
As you make a high pitch 'ah' sound, you will feel your belly muscles getting tensed. Precisely, this is what happens when you gradually play a higher note for a lower note.
Practicing Harmonics
This is a lot similar to the second practice method. The only way it is different from that practice is that you will play harmonic here.
You don't really play harmonics in the second method for practicing. You have actually learned how to blow slowly and then gradually faster.
Still, this practice is fundamentally about blowing are slow to faster, but it's a different kind of exercise. All you need to do is hold the low C, and then you start going to higher notes by blowing air faster and stronger.
Imagining Places For Notes
While you are playing a lower note, you can keep your eyes lower, and you can take your eyes slowly higher while trying to go to the higher notes gradually.
For instance, if it's a low register, look directly at the floor. Then, when you start to go higher, take your eye higher with the note as well.
On A Final Word
Keep on practicing the exercise we have elaborated for you. Remember to go slow and be patient. There are books as well, which will help a great deal with the flute fundamentals.
During the practice session, try to remember how you are creating the note physically. That includes your fingering, the embouchure structure, and the speed of air. Also, keep your throat open and never clench your jaw while practicing the high register.
Keep your mouth relax and practice the mouth shapes. They are vital for making hitting the right note.  Furthermore, Keep in mind that you need to maintain the right embouchure structure with your lips, slowly increasing the airflow without tightening your mount muscles or you getting tensed.