Last Updated on May 30, 2023 by Shanta Roy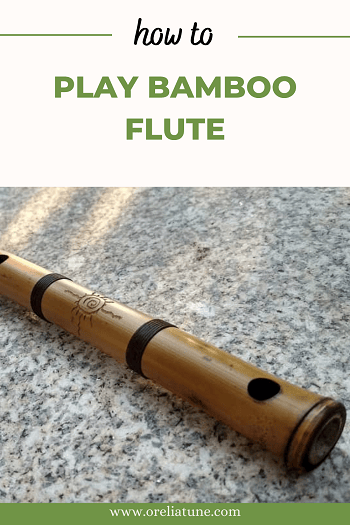 The sounds of the flute invoke a particular emotion inside you. With its soft and soothing tone, it can relax like no other musical instrument.
The sound you can create with a flute is superficially like the sounds you can make with any perpendicular object with hollow space inside it, e.g., caps of pens, glass bottles, etc.
Nowadays, you will find different kinds of flutes in the market, such as- flutes made from lead, plastic, or bamboo.
Here, we will give away vivid steps for how to play bamboo flutes. And, this guide is mainly for beginners.
RELATED:
Things To Know About Playing Bamboo Flute
Playing flutes is not hard. All it takes is practice, which is true for every other instrument. Before you start with the process of playing a bamboo flute, we would like to make you well-versed with some initial ideas. All the concepts have contributed to the steps for playing a bamboo flute. Let's dive in!
How does flute playing work in general?
Initially, when you can practice producing strong lungs air and control your lungs' air by keeping your lips area in a specific position and finger movements, you can create sounds with a flute or bamboo flute. You get a clearer idea about the playing mechanism after reading other ideas and the steps to play bamboo flutes.
Which flute is best for beginners?
To speak in general, any flute with straightforward features can be a good choice for beginners. By straightforward feature, we mean flutes don't have technologically advanced features. Considering that, bamboo flutes can be a good choice. Also, they are easily affordable too!
Can you learn the flute by yourself?
Yes, you can. As long as you are highly self-motivated, you can certainly be successful in learning by yourself. Also, you will find many online resources to learn from basic to advanced-level practices.
What are the core characteristics of a good flute player?
A good flute player will explore beyond the apparent limitations. Also, a flute player with potential will have flexibility in their muscle movements, adequate technical knowledge, and express sounds as diversely as possible.
How long should one practice flute in a day?
Expert flute players suggest practicing playing flute for 20 to 40 minutes a day. Even if you can't spend 40 minutes of your day, by putting in 20 minutes, you can learn to play the flute satisfactorily.
Did you know playing the flute contains health benefits?
First of all, playing the flute can promote proper breathing. It will also teach you will maintain a healthy posture, make your finger nimbler, and better control your motor activities, especially involving finger and face muscles. Finally, when you play the flute, it enables you to strengthen your core.
What else can I learn from playing the flute?
When you play the flute, the process puts you through some good practices that can improve your life at large. For instance, flute playing practice will help you learn to be determined and focused on a goal. Also, it can lubricate your brain to learn other things faster. You will possess a better intuition and be more patient.
Essential Details For Playing Bamboo Flute
There are a few important aspects that you will come across while playing a bamboo flute. We want to give them away too. Once again, the steps are going to be much longer, but the precession ideas and the aspects we will be talking about in this section will cover a lot about playing the flute.
Flute Holes
A flute will be comprised of at least six holes. The holes have different functions, such as blow holes to blow air, and fingering holes to make different sounds. You will find flutes to have more than six holes, which will help to produce many more sounds.
Different Notes
You can create different kinds of notes by utilizing fingering holes. Some holes are used for playing softer and slow sounds, some are used for making faster notes.
There are six types of notes, such as a, c, d, e, f, G/g, and b-flat. For faster and high pitched sounds, you need to use a, f, and g notes. And, for slower and smooth songs/sounds, you need to use c, d, and G.
Air Speed
The note you are aiming to produce depends on the speed of the air. More robust air flow is for faster notes, and smooth airflow is for slower notes.
Fingering Speed
In faster notes, you have to move the fingers faster on the flute holes. And, in deeper and slower notes, you move your finger slowing from holes.
Mouth Position
Playing flute requires one particular position. You place your lip on the blowhole by gathering all the lip muscles.
Steps For Playing A Bamboo Flute
Now that you have built good background knowledge about playing the flute, you will catch it faster. Let's start with the steps.
Step 1
Place your left hand's finger on the beginner fingering hole of the flute. You can reach the hole from the form front side of the flute. Then, place your right hand's finger on the rest of the fingering holes. This time you can reach the holes from the backside of the flute.
Step 2
Now, place your lips in the blow hole. Once your finger and lips are on the flute, try blowing air in the flute. Don't block all the holes of the flute with your finger.
In fact, in the beginning, you can try making a plain sound by simply blowing air without blocking any holes. Gradually, try to block holes and see the sound it's making. After that, you can carry on practicing to create some organized sounds.
Additional Facts
Moving fingers to make different sounds can be hard to learn at the beginning. Alongside the finger dexterity, you can get mount cramps too. And, your lungs will get tired of producing air. But if you keep you spending time with the bamboo flute, you will get a hold of it.
To Summarize
Learning to play an instrument can be rewarding. Also, you have seen, playing the flute can teach many important aspects! If you are a beginner and you are sincere enough with the plan to learn to play the flute, then practice, and explore as much as you can.
And, if you are just an explorer, you are very much welcome to explore. It's considerably challenging, and no incredible result can be gained without difficulty.