Last Updated on May 30, 2023 by Shanta Roy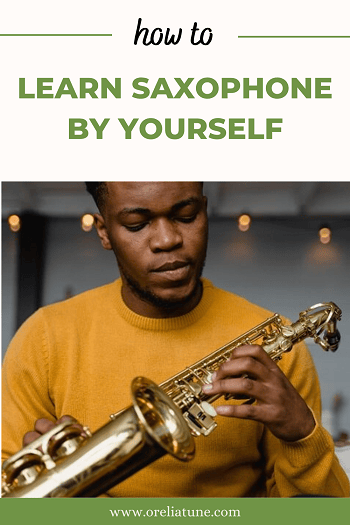 Before anything else, let us tell you that the saxophone is one of the easiest instruments to learn or start with! So, Yes, you can learn to play saxophone, all by yourself.
The self-learning method is an amazing way of learning. People who are self-driven can acquire any sort of knowledge or skill they would like.
Regarding that, learning by yourself will call for reliable materials. Nowadays, we have access to unlimited materials online. All you need to do is browse them and utilize the materials at your disposal.
For example, our guide here will be a great help to you. We will help you with the initial steps one should take in order to learn to play the saxophone at home! Let's start with the main discussion now!
Collecting A Sax
This step is an obvious one still we decided to mention it. Why? Without a saxophone in your possession, you can't learn to play it.
You could spend a huge amount of time reading guides and watching videos from the web. But you are not actually learning it until you are practically playing it.
So, collect one for yourself. You don't need to collect a high-end sax right now! Just arrange that will help your enough with the learning process.
 For that, you can directly make a purchase by visiting the music store physically. Or, you can just opt for some renowned online shop.
How much a saxophone cost? Well, for a beginner-level saxophone, people usually spend from $800 to the high of $2200. Now, it's your call, how much you would like to pay as a beginner.
However, you can rent them from music shops! Isn't that great news? That will cost you a lot less than buying a saxophone.
Then again, we have one more solution if you don't have enough money to pay for a saxophone. You can borrow from people as well!
For that, you will need people who are into music. And, it's not necessarily like you will have people around you making music.
 Anyway, this is just to give you all the ideas about collecting a saxophone. Once again, without a saxophone in hand that is no use of the materials online.
Working Up Your Throat, Diaphragm, & Breathing
As expert saxophone players suggest, you need to learn to control your breathing process while playing the saxophone.
Usually, blowing into a sax doesn't require a strong force in the air. All it needs is steady and soft airflow.
To maintain the consistent flow of air, you need to learn to have control over your throat and diaphragm.
As a result, your diaphragm will be trained to produce free-flowing air. The natural force of free-flowing air is what you need to blow into a saxophone.
Otherwise, it won't sound the way one would expect it to sound.
You will find countless breathing practices on the web. The most common one is- holding your breath for a while and releasing it. You keep on repeating the process as a practice.
Also, it's an excellent warmup. Considering that, learning from any level would perform this exercise before they start playing a sax.
However, this is just one practice. But there are some other practices that you need to do. Kindly watch some videos for that.
That would be more helpful than reading about the practices. Besides, for a fast-learning process, videos will help you like no other resource.
Holding Your Body & The Sax In A Comfortable Position
This is one of the basics of playing any sort of instrument. Thus, it's no different for a saxophone. It's crucial to set your body at ease while playing the saxophone. Also, you should learn how to hold it without making your upper-body muscles stressed.
Your body is tense at the beginning. In a way, you can't help it. But you will get the hang of it with every practice session. So, pay good attention to your body and how you are holding the instrument.
Watching experts playing the saxophone will give a comprehensive idea of how this particular step. Try to emulate them.
Remember, your posture has a lot to do with the sound quality. If you are playing it with ease, the airflow will be natural. Hence, the saxophone will also sound just like it way it should sound.
We have suggested picking up on how experts are doing it. Well, you can at least try to copy them. But it doesn't necessarily mean it has to be exactly like them! The main target is finding your own comfortable position.
Playing With A Backing Track
Just like a flute, there will be different scales in a saxophone as well. You can study the flutes and start playing them on the instrument.
There are exercises available online to get the scales right. But the most effective way of practicing scales is to play them with a backing track.
With tracks, you will be able to master the accuracy of the scales and the notes fasters! You won't have to take our word for that. Just give it a try; you will notice the progression. Also, this technique is suggested by advanced saxophone players.
For arranging backing tracks, you will find many apps to use on your phone or online resources. Overall, with a backing track, you will have practical music to follow.
And, that will enable you to learn to play it better. Besides, it is more fun when you are practicing with a backing track. So, we highly recommend it.
Identifying The Notes And Changing The Notes
While listening to a track, you can write down the notes. As a result, you will know if you have got the notes right. If you can get it right this way, you will definitely get it right on your saxophone too!
Finally, you can change the notes. Meaning, if a track is on a lower note, you shift it to t higher note and vice versa.
Above All, Have Fun With It & Practice Always
So, there are things one can do that start learning the saxophone by themselves. Remember to have fun in the process. Stressing over it won't result in anything good anyway. Also, try practicing a little every single day.
Wish You All The Best!