Last Updated on July 11, 2023 by Shanta Roy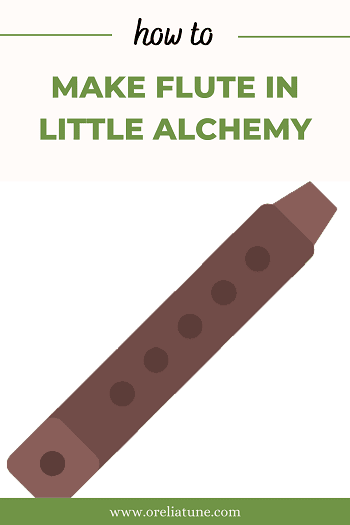 There are a lot of us who love to make things with our hands. For instance, we are always doing some DIY projects.
Sometimes we don't get the materials in our hands, or we can't manage enough space to perform a project. And, technology has an excellent solution to that.
There is a website where you can create anything with. All you need to do is put elements together.
It can be the most fun for the science geeks. Still, people of any age can enjoy creating any object or living being.
The name of the website or software is Little Alchemy. We have explained it mainly for those who didn't know they perform countless projects virtually.
And, if you knew about the website, that's great! You must be looking for the correct list of elements.
We will give away the elements and a step-by-step guide for making flutes in little alchemy.
Elements You Will Need To Select
Air

Fire 

Mud

Water

Plant

Human

Metals tools

Wood
Steps For Making Flute With Little Alchemy
Actually, it's an exciting game. Also, it can be educational. You could know many in-depth details about the object or living thing you are going to make. Anyway, let's start with the making process now.
Step 1: Finding The Website
First, open a web browser on your computer and search 'Little Alchemy.' It will appear immediately right on the top of the search results. Next, click on the link. It will take you to the website in a snap. However, the speed depends on the internet connection you are using. However, when you are on the website, move on to the next step.
Step 2: Making Wind
When you are on the website, look all over it, and try what options and tools you have to utilize. You will find some fundamental elements on the website's right side, and there will be a huge blank area to create and place things. The essential elements are- air, earth, fire, and water. Later, when you make objects, they will be by the side of the fundamental elements to create other objects.
I guess you have realized now that it is a project you will start from scratch! You will be dragging the elements from the right-hand side of the website and dropping one element on top of the other elements to create a specific entity.
Our target entity is our flute. To start creating the flute, you will need to make wind first. To make wind, you will need to drag air, then fire on the air. It will create energy. Next, you need to add air again with the energy. That will give you wind.
Sequence for creating wind: Air+Fire=Energy, Energy+Air= Wind
Step 3: Making Mud, Rain, And Plant
Next, we will make mud on the Little Alchemy. To make mud, you need to drag the earth first, and then you add water. Then, it will create mud for you.
First, you will need to drag air separately to create a plant, and then you will add water with air. It will create rain. In order to make a plant, you will have to add earth with water. 
Sequence for creating mud: Earth+ Water= Mud
Sequence for creating rain: Air + Water= Rain
Sequence for creating Plant: Rain + Water= Plant
Step 4: Making Swamp, Life, And Human
You need to make a swamp where you have made mud. To create a swamp, you need to add mud and plants together.
Now, separately, you need to drag air again and add fire to create energy. Next, you need to add energy and a swamp to develop life.
It's time for making you, I mean, human! Drag earth on top of life, and it will create humans.
Sequence for creating Swamp: Plant + Mud= Swamp
Sequence for creating Life: Air + Fire= Energy, Energy + Swamp= Life
Sequence for creating Human: Life + Earth= Human
Step 5: Making Metal, Tools, Tree
Now, we will create metal. To do that, separately, drag the earth first. Then, add fire to it, and it will make lava. Next, you need to add air with lava to form stones. Then, you will make metal. Add fire to stone, and you will get metal.
You will make the tool now. To develop a tool, you need to incorporate metal with humans, and you will get tools.
Read this section carefully; first, you need to add air and stone together to make sand. From sand, you will make glass. To make glass from sand, you need to add fire to the sand you have made.
Now, you will need to make time and an hourglass. When you make time and hourglass, you need to keep the time to make a tree, and you keep away the hourglass on the element list.
Add glass with sand, and you will get time and an hourglass. Next, take away the hourglass on the elements list, and keep time. The time will be in the form of a watch. Now, add the tree you have created in another stage with the watch. And it will finally create a tree.
Sequence for making metal: Earth + Fire= Lava, Lava + Air= Stone, Stone + Fire= Metal
Sequence for making tools: Metal + Human= Tools
Sequence for making tree: Air + Stone= Sand, Sand + Fire= Glass, Glass + Sand= Time & Hourglass, Time + Plant= Tree
Step 6: Making Wood, And Flute
To make wood out of the tree you have grown, add the tree and tool. Then, you will get wood. When the wood is ready, you will be in the last step of making a flute.
There should be wind on the screen already created to make the flute because we have instructed you to create it in step 2. Anyway, if you have the wind on the screen, add it with wood, and there will be the most desired flute. But, if you don't find the wind on the screen or the list, you can make it by jumping into Step 2.
Sequence for making wood:  Tree + Tools= Wood
Sequence for making flute: Wood + Wind= Flute!
To Summarize
Playing with Little Alchemy is truly amazing. We are glad it exists! Anyway, we have developed this guide to help the flute-lovers. We hope you could successfully follow our guide to create a flute. Have a great flute-making time on Little Alchemy! 🙂
Related Posts: