Last Updated on May 30, 2023 by Shanta Roy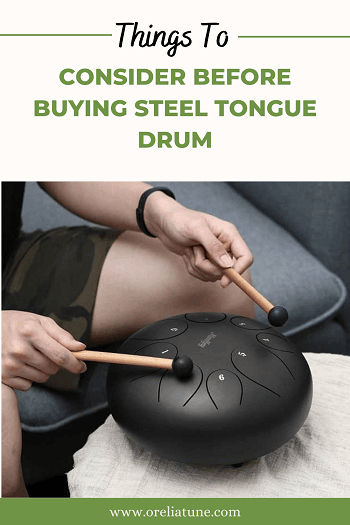 Now that you are familiar with the best steel drums on the market, it's time to move on to the next step.
You must be thinking about choosing one to explore some tune in your very own way.
Hold your horse! A list with the best tongue drum won't be entirely helpful unless you learn how to choose one.
To help you find the best drum and the most suitable one, we have rounded some crucial aspects. One must pay attention to these before buying a steel tongue drum. Otherwise, you might regret buying one. Neither of us wants that, do we?
Let's go over the essential points below to select the best drum.
Scales
The very first thing one needs to consider while buying a steel tongue drum is the scale of the drum. A scale plays the leading role in how the sound is going to make you feel. In other words, scales determine how a tongue drum would sound like.
Regarding that, there are five most popular scales, such as pentatonic, diatonic, c major, D major, and E minor. Let's have a look at some of the common scales in steel tongue drums.
Why Should You GO For the D-major Scale?
If you are a beginner, then you should go for D major scale. It's easier to learn and play on the steel tongue drum.
If you have gone through the details about the instruments above, you must have noticed that we have specified D major scale for all the beginner-level drums.
Keeping those in mind, if you haven't practiced music before, then consider going for a drum with D major scale.
Also, if you are planning to gift a steel tongue drum to your child, check out the beginner-level drums.
What Is the D-major Scale Used For?
We have already mentioned once that music scales are highly related to emotion. Thus, different scales make you feel different feelings. Also, they sound in such a way that induce varied feelings in us.
 To make it easier to understand, D-major is an uplifting scale. Hence, if you wish to have a delightful musical time and feel cheerful, you can play an instrument on a D-major scale.
Why Should You Go For the C-major Scale?
This scale is mainly played by experts or advanced-level learners. Besides, learning it is hard enough! By the by, this is not to discourage you. We are just helping you to find a suitable drum.
It's just that people who have musical backgrounds will learn and play the scale better. Moreover, you can't learn C-major unless you master the D-major before that.
As a beginner, you need to start easy. For that, C-major is not the easier one. However, people who play drums professionally will collect a drum with a C-major scale.
Unlike a young learner or beginner-level adult, an expert steel drum player will play the drum on planned occasions.
What Is the C-major Scale Used For?
For your information, all major scales induce purity and happiness. But, C-major is specifically recognized for provoking innocence and simplicity with a joyous beat.
Therefore, you can play the drum with a C-major scale for an absolute cleansing effect on your soul. Furthermore, this scale is apt for putting you in a relaxed realm immediately!
Notes
How many notes a steel tongue drum is capable of producing is another important aspect. The drums in our list can either produce 13 notes or 11 notes.
If you wish to create a wide range of tunes with your steel tongue drum, then try selecting a 13 notes drum. In relation to that, a drum with 11 notes is able to play a limited number of tunes.
Once again, as a beginner, you will find selecting 11 notes drums. The 13 notes drum is utilized by an expert steel tongue drum player.
Materials Used
You can already see this aspect is related to the construction of a steel tongue drum. The materials used to create a drum contribute to durability.
For instance, steel tongue drums are made from either pure steel or alloy steel. A sincere manufacturer will ensure using stainless steel. Otherwise, you will see the drum you bought with such hope rusting with a short time of use.
Tuning Before Color Application
There are a few drums in our list that are tuned twice; before and after the application of paint. That way, you will have a well-tuned drum, and it'll be ready to be played right out of the box!
Drums that are tuned after the painting might have changes in scales. As a solution to that, you need to tune it the first time your use it.